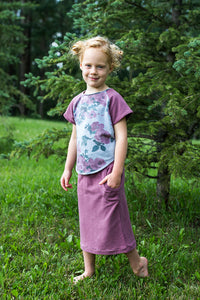 Heathered Mauve Bamboo Skirt
Regular price $23.00 Sale
Can't seem to find a decent skirt around these days, well look no further!  Caribou Kids offers a line of Bamboo French terry skirts that meet all the requirements; super soft and comfy, mid calf length, no slits, 2 front pockets, non clingy and a thick yoga waistband!  What more could you ask for!  
So versatile, great for play but can be dressed up for a classier look!  This bamboo is not only eco-friendly, hypoallergenic, super soft and sustainable but it's also thick, stretchy and not clingy!  Win-win!!  
66% bamboo
28% cotton
6% spandex
Size measurements fits:
Size     Waist     Hip     Length
3/4       21.5"      23"       16"
5/6       22.5"      25"       17"
7/8       23.5"      28"        19"
9/10     24.5"      30"        21"
11/12   25.5"       32"       23"
14/16     27"        35"       25"